PURIM PARTY IS AT CAPACITY – WE CAN NO LONGER ACCEPT RESERVATIONS.
THERE ARE MANY LOCATIONS IN QUEENS WHERE ONE CAN HEAR THE MEGILLAH.
INCLUDING BUT NOT LIMITED TO:
7:50PM IN THE QC HILLEL
7:55PM AT DEGEL ISRAEL (14402 68TH DR.)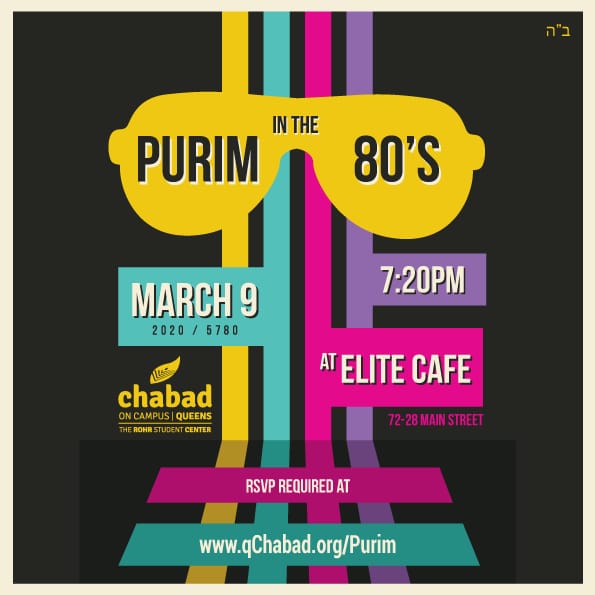 Join us for Megillah reading and a fabulous Purim party at Elite Cafe!  Chabad is renting out the entire restaurant just for QC students.  RSVP required in advance, bring your student ID.
7:20pm SHARP Megillah reading followed by buffet break-fast and a full night of 80's fun.
Costume contest, game show, raffles & more.
MEGILLAH & MINGLING
Tuesday, March 10th on Campus
Megillah reading 12:15pm sharp & 1:20pm
Hamantashen, DIY Mishloach Manot Making, Give Purim Tzedakah.
Esther as a Beauty Queen
by Tzipah
Esther was the ultimate beauty queen.  Chosen to wed by the king of 127 nations, the most powerful man in the ancient world.  King Ahchashveirosh had one major criteria for a wife in mind and it was skin deep – physical beauty.
So Esther became the Queen of the world simply because of the way she looked – what an insult!  I am reminded our trip to Vienna that Shaul and I were fortunate to take last year.  We helped run a Shabbat retreat for European young professionals and also had some time to check out the city.
Empresses Sissi is quite a fascination to the Austrian people.  At the age of 16 she accompanied her older sister who was set to have her first meeting and ultimately marry the future Emperor Franz Joseph I.  The family had just come from a funeral and were wearing black clothes.  The bride to be did not look particularly nice in black, yet the young Sissi was stunning.  The Emperor was taken by Sissi and chose to marry her instead.  
Their story is fascinating, and unfortunately Sissi was ultimately miserable.  She had never intended to marry one of the most powerful men in the world.  She abandoned her post, traveled as much as she could and was apparently anorexic.   The pressures of such an imposed lifestyle are impossible for me to imagine – and  it would be totally unfair to judge her.  
Esther was placed in a very intense position.  Her inner talents and intellect were totally ignored.  She was thrust into a life she had never imagined and had to make much sacrifice including her marriage to Mordechai – but she didn't crack, she saved her entire nation.  
Esther instructed the Jews to fast and repent in order to annul Haman's evil decree to destroy the Jewish people.  She also fasted for 3 days, which would obviously diminish her beauty, before approaching the king uninvited.  
Most people dress up for an interview – how much more so should Esther have made herself beautiful before risking her life by pleading with the king, to save the Jewish people.  This was a king who seemed to only value her for her looks.  But Esther never seemed to lose sight of the real King and indeed she did beautify herself!  She fasted, repented, and instructed the entire nation to do the same thereby beautifying themselves spiritually.
Esther never lost sight of her true self – she never go lost in the details of her physical beauty even though her beauty was all the king had noticed.  Esther realized that the decree was spiritual in nature; that the salvation would come through a spiritual response; and the she herself had a spiritual identity whose beauty was far superior to her physical beauty.
She didn't abuse her power, she didn't run from fame – she saved the Jewish people.  She kept her eye on the goal at all times and was able to see the spiritual within the everyday.