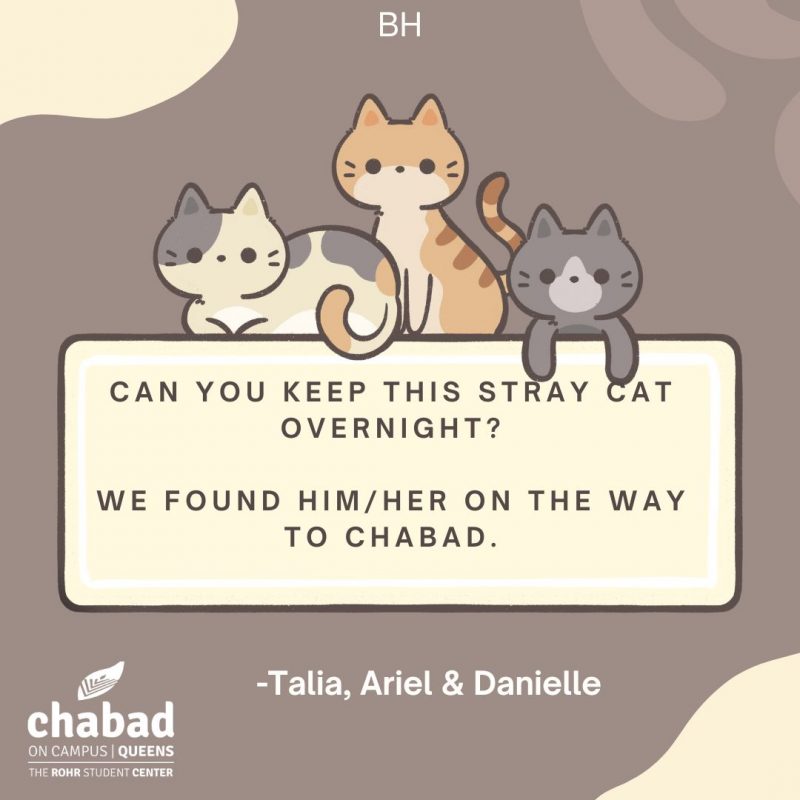 Danielle comes upstairs.  I think it's just to say 'good Shabbos,' but she's wearing a look of worry as well as a sparkling pink pleated skirt.
"Talia's found a cat," she says with urgency.
"The cat will be fine," I tell her.
She's not convinced. "She has the cat with her," she insists.
"Ok, I'll come down and let's see what we can do."
Talia is direct.  The 2-ish week old kitten is wrapped in Ariel's shorts and needs a home.  It cannot be abandoned.  "And I need my shorts back," says Ariel.
I remembered that Paula on my block once helped in desperate cat situation.  Paula gave us a cardboard cat transporting box and some cat food.  Turns out it was her grain free 'Passover cat food' that her cats don't really like… (Sound familiar?).
We let the cat sleep in her new cat box overnight.  Shabbat morning, we found her a better dwelling in a large clear storage box lined with a soft fabric.  She didn't mind the Passover cat food.
Danielle, Talia & Ariel came back for Shabbat lunch.  By this time they had found the Shabbos cat a new home.  My kids were already attached.  I was secretly trying to figure out how to rearrange my life to accommodate for the possibility of the Shabbos cat staying on a bit longer.  But this made much more sense.  She ate, she drank and my son sat on the couch watching her nap on the soft fabric in the corner of her very temporary dwelling.
The girls took her onward and upward afterwards.  It was a special day with a special visitor.  Thank you Ketzeleh the Shabbos cat!